Slovenia, lake Blade :: Magnetic Bottle Openers : 07-7 ›› 128
Size:56 x 56мм
-♥-
Product Code: 07-7››128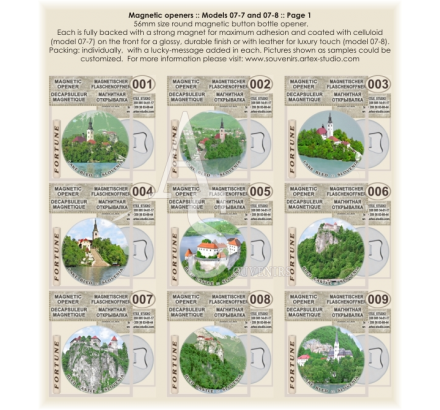 Minimum order Qty of 34
34 or more 1.12€
67 or more 0.75€

Qty:
Minimum order Qty of 34
Button Magnets Bottle Openers
Category: Slovenia, lake Blade :: Tourist Souvenirs for Promotion and Gift
Magnetic openers :: Models 07-7 and 07-8 56mm, round magnetic button bottle opener. Each is fully backed with a strong magnet for maximum adhesion and coated with celluloid (model 07-7) on the front for a glossy, durable finish or with leather for luxury touch (model 07-8). Packing: individually, with a lucky-message added in each. Pictures shown as samples could be customized.
Write a review
Your Name:
Your Review:
Note:

HTML is not translated!
Rating:
Bad
Good
Enter the code in the box below:
Promotional souvenirs representing landmarks and tourist sites of all the countries in the World!
Choose: 1.) Material 2.) Shape&Size 3.)Picture