Button Oppener & Metal Souvenirs

Магнити Отварачки Огледалца
Choose Souvenir Products from:
Button Oppener & Metal Souvenirs ↓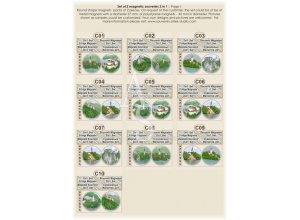 Round shape magnets packs of 2 pieces. On request of the customer, the set could be of be of metal magnets with a diameter 37 mm. or polystyrene magnets - 42 mm in diameter. Pictures sh...
0.60€
Promotional souvenirs representing landmarks and tourist sites of all the countries in the World!
Choose: 1.) Material 2.) Shape&Size 3.)Picture